This is an archived article and the information in the article may be outdated. Please look at the time stamp on the story to see when it was last updated.
Two men have been arrested and a woman is wanted in connection with an expansive human trafficking case involving the selling of 13 young girls who were transported throughout the state and into Nevada, officials announced Thursday.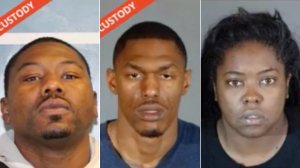 The ongoing investigation encompasses one of the widest-ranging human trafficking cases ever prosecuted on the west coast, according to California Attorney General Xavier Becerra. In the seven months since the case was opened, a statewide coalition of law enforcement agencies has uncovered a conspiracy to exploit and sell young girls across the state on the internet while defrauding the victims, and using stolen identities to buy luxury cars to transport the victims throughout California and in some cases across state lines.
Investigators first became aware of the network after a girl was reported missing in Tulare County, a rural area in the heart of the state, last December. The next month, Los Angeles County sheriff's officials were tipped off that the girl could be in a West Hollywood apartment, Sheriff Jim McDonnell said.
Responding deputies found the girl, along with two other adult women, one who was a parolee — all from Tulare County, McDonnell said. Because of the connection to Central California, detectives contacted the Tulare County Sheriff's Department about the case, and that agency was able to identify more victims.
The ensuing probe uncovered 13 female victims — eight of whom are juveniles — and a crime network that spanned from the northern Bay Area, the Los Angeles area, the Central Valley and Las Vegas. The girls were as young as 15 years old, according to McDonnell.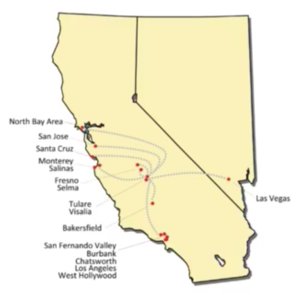 "Detectives researched the suspects and worked tirelessly to document how they would traffic their victims in plain sight, using the internet and advertising to post their victim for sale on websites," McDonnell said. "In the end, the number of victims is staggering."
So far, 54 charges for sex, fraud and theft crimes have been filed against three individuals, two of whom are in custody, Becerra said.
Highland resident Quinton Brown III, 30, and 32-year-old Gerald Turner of Fresno are in custody in Tulare County jail, officials said, although the circumstances of their arrests are unclear.
Brown has been charged with 41 felony counts of human trafficking of minors, pimping, pandering, grand theft, identity theft and receiving stolen property.
Turner is facing six felony counts human trafficking on minors and pimping and pandering, Becerra said.
Authorities are still searching for 32-year-old Mia Maree McNeil of Los Angeles, who they are calling a co-conspirator.
She was allegedly instrumental in providing rented locations to be used as brothels in West Hollywood, Chatsworth and Bakersfield. McNeil also was responsible for securing the luxury sports cars used to transport the girls, which she bought using credit information stolen eight victims of identity theft across the U.S., McDonnell said.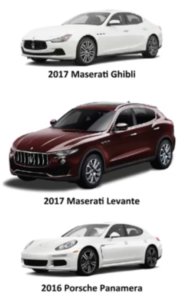 These vehicles included two Maseratis and one Porsche, altogether worth more than $380,000, detectives said. Officials did not disclose the total number of cars involved.
The cars delivered the women to towns including San Jose, Santa Cruz, Chatsworth, Burbank, Monterey, Bakersfield, Las Vegas, Salinas, Fresno, Selma, Tulare and Visalia.
Much was not revealed about the victims, but Tulare County Sheriff Mike Boudreaux said comprehensive counseling and rehabilitation services are being administered.
Although Attorney General Becerra mentioned the case against Backpage.com his office is currently prosecuting, it was not clear where on the internet the girls had been advertised. One detective on the case mentioned the website and Craiglist along with popular social media networks Facebook, Instagram, Snapchat and Kik as making girls vulnerable to exploitation.
"It's tempting to think of trafficking as something that doesn't happen here in our own backyard," Becerra said. "However, recent data from California show that 72 percent of sex trafficking victims whose country of origin was identified are American."
He later added, "It could be anyone's child; it doesn't have to be someone coming from a difficult background or foster care."
Criminals often lure young girls into a criminal network through coercion, threats, being drugged or raped, or "any number of things to basically psychologically control them," McDonnell said.
Anyone with information on McNeil's whereabouts or potential additional victims can contact L.A. County Crime Stoppers at 800-222-8477.