This is an archived article and the information in the article may be outdated. Please look at the time stamp on the story to see when it was last updated.
Two men have been arrested after allegedly shooting and killing a 4-year-old boy when they opened fired on people they were arguing with in Highland, according to reports Friday.
Sheriff's deputies responded to reports of gunfire around 8:30 p.m. Wednesday in the 7400 block of McKinley Avenue (map) and found 4-year-old Daniel Munoz with at least one gunshot wound to the neck, officials said. He was transported to a local hospital where he was pronounced dead.
Munoz was playing with stuffed toys in the home's front yard when he was killed,  according to investigators.
Relatives said he was staying with them while his parents, who live in Riverside, were away.
Darron Daniels, 20, and Maurice Kelley, 25, were arrested in connection to the boy's death, and held on one count of murder each and two counts of attempted murder, the San Bernardino County Sheriff's Department stated Friday morning.
The arrests came after officials asked for the public's help Thursday in locating a vehicle and people they believed were the intended victims.
Investigators suspect Daniels and Kelley were arguing with people seen in a Toyota Camry near the Highland home when they opened fire and killed the boy.
Search warrants and numerous witness interviews led to the two arrests, and investigators continued Friday to search for the Toyota and a passenger seen in the vehicle, officials said.
The vehicle was described as a white 1990s four-door Toyota Camry with black bumpers.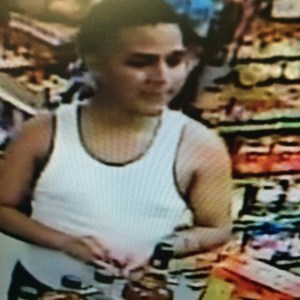 The passenger, who was described as a person of interest, was a Hispanic man in his early 20s, with brown hair, standing between 5 feet 8 inches to 11 inches tall, weighing around 160 to 180 pounds.
It was unclear if investigators were searching for the driver of the Toyota, and a description was not provided.
There was no evidence that the two men in the Toyota had fired any bullets, Sheriff's Deputy Adams Cervantes said Thursday.
When asked if the area was known for gang activity, Cervantes replied, "not to my knowledge."
But some locals, including Munoz's aunt, said there was gang violence in the area.
Daniels and Kelley were booked at the Central Detention Center in San Bernardino and held in lieu of $1 million bail, according to Sheriff's officials.
Anyone with information was asked to contact Detective Justin Long or Sgt. Trevis Newport with the department's homicide detail at 909-387-3589 or Sheriff's dispatch at 909-387-8313. Callers wishing to remain anonymous could call the We-tip Hotline at 800-78-CRIME (27463) or leave information on the We-Tip Hotline at www.wetip.com.