This is an archived article and the information in the article may be outdated. Please look at the time stamp on the story to see when it was last updated.
Two young men, including a UCLA student, have been arrested in the death of another UCLA student whose body was found inside a burning Westwood apartment building, authorities said Monday.
The body of Andrea "Andy" Lauren DelVesco, 21, was found Sept. 21 within a unit in a Roebling Avenue apartment building where many members of her sorority live.
Alberto Medina and Eric Marquez, both 22, were arrested, the Los Angeles Police Department announced Monday.
Both were being held on suspicion of murder at Van Nuys jail.
"Investigators examined forensic evidence and witness's statements, which linked 22-year-old Alberto Medina and 22-year-old Eric Marquez to the murder of Ms. Delvesco," the statement read.
Medina was arrested Saturday at his home in Fresno. Marquez was arrested near his apartment on Strathmore Drive in Westwood on Sunday.
Marquez is a UCLA student, LAPD Officer Mike Lopez said.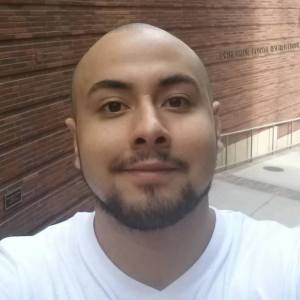 Medina was being held without bail; Marquez's bail was set at $1 million.
The day after the fire, DelVesco was identified in a statement from Pi Beta Phi, her sorority. After LAPD announced the arrests, the coroner's office on Monday confirmed the victim's identity after saying the case was on security hold earlier in the day.
Speaking to the television show "Crime Watch Daily" in front of the crime scene, her father fought back tears as he described his daughter as a "spiritual, adventurous young lady."
"Her life was cut short, but the time she was here she affected so many people in so many positive ways," Art DelVesco said.
Andrea DelVesco was a senior majoring in Spanish and psychology, the UCLA Daily Bruin had reported. She was from Austin, Texas.
"From the day she was born, we knew that she was an angel on earth," her mother, Leslie DelVesco, told "Crime Watch Daily."
No cause of death has been announced. At the time of the fire, investigators said there were no bars on the windows that would have prevented the victim from escaping the smoke and flames.
DelVesco was charged July 8 with four felony counts of possession of controlled substances for sale — MDMA, LSD, psilocybin and methamphetamines — according to a Los Angeles County Superior Court criminal complaint against her.
She had been arrested by university police on June 4 and was due for a preliminary hearing in court four days after she was found dead.
Lopez could not comment on whether the arrests were connected to criminal charges against DelVesco.
LAPD's Robbery-Homicide Division was investigating her death, and the city Fire Department's arson section was examining the fire.
Anyone with information was asked to call Robbery-Homicide Division Detectives Frank Carrillo or James King at 213-486-6890. During nonbusiness hours or on weekends, calls should be directed to 877-527-3247.
KTLA's Nidia Becerra contributed to this article.
More video: