This is an archived article and the information in the article may be outdated. Please look at the time stamp on the story to see when it was last updated.
Two men arrested in Southern California and charged with conspiring to provide material support to the terrorist group Islamic State had expressed a desire to die as martyrs, authorities said Friday.
Muhanad Badawi, 24, and Nader Elhuzayel, 24, both of Anaheim, were arrested by FBI special agents Thursday evening, the U.S. Department of Justice stated in a news release.
Badawi and Elhuzayel used social media to discuss ISIL and terrorist attacks, expressed a desire to die as martyrs and made arrangements for Elhuzayel to leave the U.S. to join ISIL, the release stated, citing a criminal complaint against the two men.
The men also discussed "how it would be a blessing to fight for the cause of Allah, and to die in the battlefield" in a recorded conversation last month, according to the complaint.
On May 7, Badawi let Elhuzayel use his credit card to purchase a one-way airline ticket from Los Angeles to Tel Aviv, Israel, via Istanbul, Turkey, the Department of Justice stated.
Badawi had indicated he would travel to the Middle East in the future, according to the complaint.
Elhuzayel was arrested at LAX and allegedly admitted that he planned to disembark in Istanbul to join ISIL and did not intend to travel on to Israel.
Elhuzayel's father, Salem Elhuzayel, said his son was planning to visit relatives in Palestine when he was taken into custody at the airport. Salem Elhuzayel said it was not possible that his son was involved in any plans to join the Islamic State.
"No way that he kept that from us. Nader is just an innocent human being who was traveling to go home to see his family and enjoy a stay of one, two months and then come back," Salem Elhuzayel said.
The family's apartment at the Crystal Inn in Anaheim was raided by authorities, Salem Elhuzayel said.
The family's belongings and overturned furniture could be seen scattered around the apartment, video showed.
Nader Elhuzayel's mother believes their family is being harassed because of where they are from.
"It is big harassment and racism too because we happen to be from the Middle East. We are Muslim people. … My kids were born in this country," Elhuzayel's mother said. "It's like a nightmare being in this situation."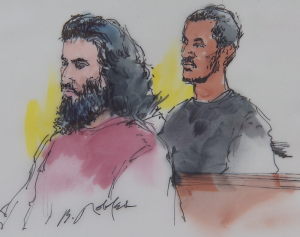 Badawi and Elhuzayel made their first court appearance Friday afternoon at U.S. District Court in Santa Ana, but did not enter pleas.
Badawi's attorney, Kate Corrigan, said he understands the severity of the charges against him. She said he was a college student who had lived in the U.S. for many years.
"He's a young man," Corrigan said. "He' somebody that is very concerned about his family at this point, and he's obviously scared."
Both men face a maximum sentence of 15 years in prison if convicted as charged.
A preliminary hearing for the two men was set for June 5.
KTLA's Melissa Pamer contributed to this article.
More video:
[facebook url="https://www.facebook.com/ktla5/posts/10153364084399614"]