This is an archived article and the information in the article may be outdated. Please look at the time stamp on the story to see when it was last updated.
Two men were charged on Thursday for allegedly walking around an Inglewood neighborhood with assault rifles while dressed in camouflage and body armor, according to the Los Angeles County District Attorney's office.
Edmon Adonis Washington, 35, and Brook Thomas Lindsey, 30, each face one felony count of possession of an assault weapon, a Hi-Point semi-automatic assault rifle.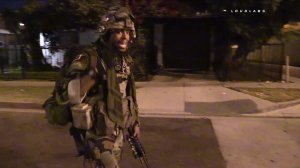 Lindsey was also charged with one felony count of unlawful assault weapon-.50 BMG rifle activity, a Hi-Point semi-automatic assault rifle.
On Aug. 16, Washington and Lindsey allegedly began walking around an area near 104th Street and Crenshaw Boulevard with semi-automatic assault rifles.
Video from the scene showed the men walking around in camouflage, carrying the rifles and talking about racism.
Police arrived at the scene and monitored the men as they walked around the neighborhood.
"Right now we are giving a peaceful demonstration. Nobody's being shot. Nobody's being brutalized. We're out here just exposing racism, white supremacy," one of the men told KTLA during his walk.
Both men were later arrested in San Fernando Valley.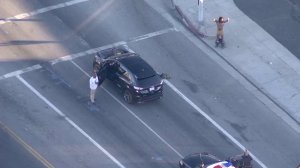 "We don't recommend anyone to walk around in public, day or night, with a firearm in plain view," said Inglewood police Sgt. Geoffrey Meeks at the time.
Lindsey pleaded not guilty to the charges and is scheduled to return to Los Angeles County Superior Court for a preliminary hearing on Aug. 31. Washington's arraignment was continued to Friday.
Washington faces a maximum sentence of three years in county jail if convicted. Lindsey faces more than eight years in jail.
Washington's bail was set at $35,000 and Lindsey's bail was set at $85,000.
KTLA's Anthony Kurzweil and Elizabeth Espinosa contributed to this report