This is an archived article and the information in the article may be outdated. Please look at the time stamp on the story to see when it was last updated.
Two men have been arrested on suspicion of sexually assaulting an unconscious woman after the three of them attended a party earlier this month, the Glendale Police Department announced Tuesday.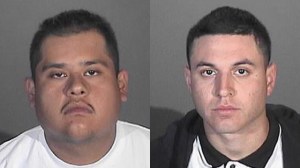 Bryan Lizarraga Castillo, of Lincoln Heights, and Pedro Garcia, of Glendale, both 23, were celebrating a friend's birthday with a small group of people on March 8, the department said in a statement. The location of the party was not disclosed.
The alleged victim, a 22-year-old mutual friend who was among the group, was offered a drink in a plastic cup, according to the news release. "Shortly thereafter, the victim was going to use an Uber ride home but Garcia and Castillo offered to give her a ride home instead," the statement said, adding that the woman then entered Garcia's vehicle and lost consciousness.
She awoke the following morning inside of the vehicle, "dizzy and disoriented," investigators said, and summoned an Uber ride to take her home.
Over the next several days, according to police, the alleged victim discovered that the suspects had photographed her while she was unconscious inside Garcia's vehicle.
"The photos depicted Garcia and Castillo with her while she was topless and the suspects were kissing her bare chest," the news release said. "Some of the photos were posted on Facebook by the suspects."
Detectives launched an investigation on March 18. They subsequently found additional photos of the two men with another woman, who has not been identified, "also appearing to be unconscious with her face in the crotch of one suspect and her hand on the crotch of the other."
Garcia and Castillo were each charged with one count of sexual battery and sexual penetration by foreign object, the statement said. It was unclear when they were arrested.
Investigators believe there may be other victims.
Anyone with information about the case was asked to call the Glendale Police Department at 818-548-4911.