This is an archived article and the information in the article may be outdated. Please look at the time stamp on the story to see when it was last updated.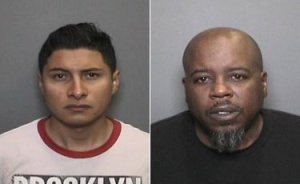 Two motorists who failed to stop and help a young boy one of them fatally struck while pursuing the other, with whom he had just been involved in a separate collision, were convicted in the boy's death on Tuesday, Orange County prosecutors said.
Roderick Kent Jerro, a 53-year-old Orange resident, and 29-year-old Miguel Villagomez of Anaheim both sped through a red light at an intersection in Orange where the victim was crossing the street with his sister in August 2015, the district attorney's office said in a news release.
The 9-year-old boy, who had recently moved to the area with his family, later died at the hospital. Although DA's officials released the victim's name as Jesse Rosales, his relatives previously told KTLA his first name was Jessie.
The fatal collision occurred shortly after Jerro and Villagomez had been involved in a minor crash near the intersection of Tustin Street and Palm Avenue. When Villagomez attempted to drive away from the scene, Jerro pursued him, officials said.
It was during the chase that both men blew the red light at the intersection of Glassell Street and Wilson Avenue — about 2 miles from the original crash site — and Jerro ran into the boy.
Neither driver stopped to check on Rosales; instead, they continued speeding northbound, prosecutors said.
But less than a mile up the road, Villagomez ran into a brick wall after trying to turn left onto Taft Avenue. Jerro stopped his vehicle near where Villagomez's had become disabled.
Orange police arrived at the scene a short time later and arrested the men.
They were both charged four days later.
Jerro was charged with vehicular manslaughter with gross negligence and hit-and-run resulting in death, both felonies. He also faced sentencing enhancements for a 1983 assault, a 1986 burglary, possession of a controlled substance in 1988, illegal possession of a firearm in 1990 and forgery or corruption of records in 1997 — all in Los Angeles, the DA's office said.
Villagomez faced one felony count of vehicular manslaughter with gross negligence.
The DA's office had previously announced the case was going to trial. But on Tuesday, officials did not specify whether the men were convicted by a jury or had entered guilty or no-contest pleas, and could not immediately be reached for comment on whether they were convicted on all counts.
If they were convicted as charged, Jerro could face up to 22 years in state prison, while Villagomez could be sentenced to a maximum of six years in state prison.
Both men are scheduled to be sentenced on Oct. 12 in Santa Ana.