This is an archived article and the information in the article may be outdated. Please look at the time stamp on the story to see when it was last updated.
Two suspected robbers were fatally shot by a business owner in Downey Monday night and a third man was injured, police said.
Downey Police Department officers responded to reports of a shooting about 8:15 p.m. in the 8800 block of Rosecrans Avenue.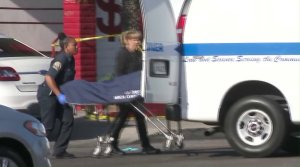 Two men were found dead of gunshot wounds inside First Class Audio, a car audio store, and a third man was treated at a hospital for gunshot wounds.
All three apparently tried to rob the business owner, who shot at the men. The injured robber got himself to a nearby hospital and was in stable condition, authorities said.
The owner was not hurt in the exchange.
Coroner's officials could be seen transporting body bags into a van. The men killed have not been identified.
Two other men were seen being taken from the scene in handcuffs, but police told KTLA they were being questioned and no suspects remain at large.
Several evidence markers were placed on the ground around the business and down the street. Also, several cars were towed from the scene, which remained active into afternoon.
A security guard who works in the area told KTLA that businesses have had issues with people jumping over fences to steal items. The man, who did not wish to be identified, said he heard nine or 10 gunshots.
A man who owns a restaurant nearby said he saw the injured robber in the street trying to hitch a ride. He said the scene was intense.
"I screamed to the restaurant to shut all the doors fast in the restaurant," the man, who did not want to be identified,told KTLA. "I saw all the little kids under the table. They were so scared."
Anyone with information about the incident can call Detective Carlos Bejines at 562-904-2334. Those who wish to remain anonymous can call Crime Stoppers at 800-222-TIPS.
KTLA's Melissa Pamer contributed to this article.