This is an archived article and the information in the article may be outdated. Please look at the time stamp on the story to see when it was last updated.
Two adult brothers were fatally shot Sunday morning while playing basketball at a park in the East Los Angeles area, a family member said.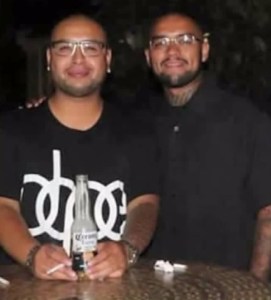 The shooting took place about 11 a.m. at Ruben F. Salazar Park, in the 3860 block of Whittier Boulevard, according to a statement from the Los Angeles County Sheriff's Department.
Deputies responded to a call reporting "shots fired" at the park, where they found two men lying on the ground in the basketball courts area, the news release said. The victims were suffering from gunshot wounds to their upper bodies.
One of the men was pronounced dead at the scene, the Sheriff's Department said. The other victim was transported to a hospital, where he died.
Their sister identified them to KTLA as Juan "Johnny" Aguilar, 28, and Antonio "Tony" Aguilar, 32. Both men were parents with children under the age of 5, she said.
Ozzie Cruz, the victims' brother-in-law, remembered them as "great fathers."
"Their kids are waiting to see their dads come home and that's not going to happen," he said, choking back tears.
Witnesses told investigators that three Hispanic people — a man and a woman, both described as "heavyset," and a boy — approached the two victims and spoke with them briefly.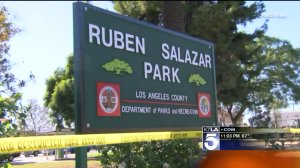 During the conversation, the heavyset man brandished a handgun and fired multiple times at the two other men, according to the news release. The man, woman and boy then ran from the scene, toward Ditman Avenue and out of view.
A man who said he was inside a nearby home at the time of the shooting said he heard at least five gunshots.
A weapon was not recovered.
It was unclear if the incident was gang-related, sheriff's investigators said.
Anyone with information about the shooting was asked to call the sheriff's Homicide Bureau at 323-890-5500. Anonymous tipsters may call 800-222-8477, or text the letters TIPLA plus the tip to 274637, or visit lacrimestoppers.org.