This is an archived article and the information in the article may be outdated. Please look at the time stamp on the story to see when it was last updated.
Two men were violently assaulted while walking in the Westlake neighborhood of Los Angeles on Sunday night, officials said.
The men were listed in critical but stable condition following the incident, which occurred on the sidewalk near the intersection of Third Street and Burlington Avenue after 11 p.m., according to Sgt. Frank Banuelos with the Los Angeles Police Department.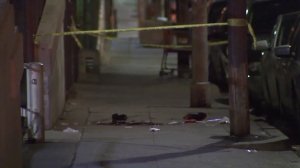 Officials do not know how many individuals attacked the men. The victims were described by officers as Latino men in their early 20s.
It was also unclear exactly what type of weapon was used, though police disclosed it was an "edged" object.
"At this point all we know is that some sort of edged weapon was used, so I can't confirm if it was a machete or if it was just a large knife," Banuelos said.
There were no known witnesses to the crime but police believed someone in the residential area would be able to turn over surveillance footage.
Detectives were working to determine whether the victims lived in the neighborhood where they were attacked.
Officials do not believe the incident is gang-related.