This is an archived article and the information in the article may be outdated. Please look at the time stamp on the story to see when it was last updated.
One of two men who were shot to death in East Hollywood Friday night has been identified, and two other men who were critically injured are expected to survive, officials said Saturday.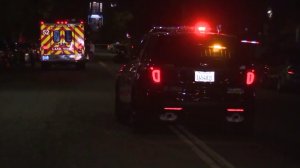 The shooting was reported around 8 p.m. at 555 N. Heliotrope Drive, according to the Los Angeles Police Department.
Two men were killed and two others were injured.
Walter Martinez Jr., 23, was identified by the Los Angeles County County Department of Medical Examiner-Coroner Saturday.
The other victims are believed to be in their 20s and at least one of them lived near where the shooting occurred.
The shooter apparently walked up to a crowd of people and several shots were fired, a witness told KTLA. Police hope to speak to more witnesses and the surviving victims, said Detective Ray Martinez.
Police did not have a detailed description of the suspect. It is unclear if the shooting is gang-related, but the area is known for gang activity, Martinez said.
Anyone with information about the shooter is asked to call the LAPD's Rampart Division, which is handling the investigation, at 213-484-3400.