This is an archived article and the information in the article may be outdated. Please look at the time stamp on the story to see when it was last updated.
Detectives were investigating a fatal shooting Thursday in South Los Angeles that left two men dead, authorities said.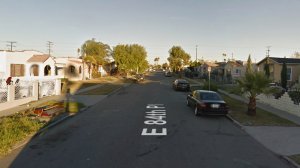 The shooting occurred about 1:30 p.m. in the 1000 block of East 84th Place in the Florence area, said Los Angeles Police Det. Dave Garrido.
Two men, ages 19 and 20, were walking west on East 84th Place when a light-colored sedan pulled up, Garrido said.
A person got out of the car and began shooting at the two men, police said.
Read the full story on LATimes.com.