This is an archived article and the information in the article may be outdated. Please look at the time stamp on the story to see when it was last updated.
Two men have pleaded guilty to human trafficking charges after being arrested last year in a statewide investigation into the case of 13 young girls who were sold for sex throughout California and in Nevada, officials announced this week.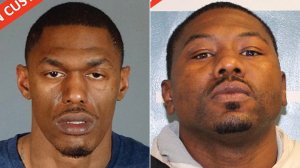 Highland resident Quinton Brown III, 30, and 32-year-old Gerald Turner of Fresno entered a plea deal on Tuesday, California Attorney General Xavier Becerra said in a news release.
Originally, Brown was hit with 41 felony counts including human trafficking of minors, pimping, pandering, grand theft, identity theft and receiving stolen property, while Turner was facing six felony counts involving the human trafficking of minors and pimping and pandering.
The exact terms of the plea deal are unclear, but Becerra said Brown is expected to serve a 28-year sentence and Turner is expected to serve 11 years.
The two were accused of transporting their 13 victims — eight of whom were juveniles — throughout a crime network that spanned the northern Bay Area, the Los Angeles area, the Central Valley and Las Vegas. The girls were as young as 15 years old, investigators said.
The trafficking ring was uncovered after a girl who was reported missing in Tulare County, a rural area in the heart of the state, was found a month later in a West Hollywood apartment with two Tulare County women. The Central Valley connection led the Tulare County Sheriff's Office to uncover additional victims.
The monthslong investigation represented one of the widest-ranging human trafficking cases ever prosecuted on the west coast, according to Becerra. The probe uncovered a statewide conspiracy to sell young girls on the internet, defraud the victims and use stolen identities to purchase luxury cars to transport the victims, state prosecutors said.
A third defendant, 32-year-old Mia Maree McNeil of Los Angeles, is expected to return to court on Feb. 26.
She is accused of being instrumental in securing brothel locations and procuring the luxury sportscars used to transport the girls. The vehicles included two Maseratis and one Porsche, altogether worth more than $380,000, detectives said.
"These guilty pleas are a prime example of how we will fight to ensure that justice is served upon those who commit the heinous crime of sex trafficking," Becerra said in a statement.