This is an archived article and the information in the article may be outdated. Please look at the time stamp on the story to see when it was last updated.
Police are searching for two men who crashed a Lamborghini into a parked car early Thursday morning in West Hollywood and then fled the scene.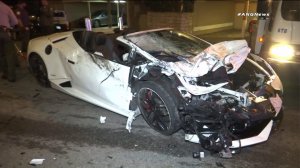 The crash occurred just after midnight near the intersection of Romaine Street and North Genesee Avenue, Los Angeles County Sheriff's Department Sgt. N. Rios said.
A witness told investigators the Lamborghini was traveling eastbound on Romaine when the driver lost control and hit a parked car.
The impact pushed the parked car into two other vehicles, Rios said.
Video also showed damage to an apartment building parking structure.
"It would seem this Lamborghini was racing with a blue Bentley," Alex Gardels, who lives in the area, said.
Two men were seen getting out of the Lamborghini and fleeing the scene, Rios said.
A witness told police they saw the men get into the Bentley before it drove away.
No description of the men was immediately available.
KTLA's Alexandria Hernandez contributed to this report.