This is an archived article and the information in the article may be outdated. Please look at the time stamp on the story to see when it was last updated.
Police are asking for help in their ongoing search for two men who knocked over and dragged a 62-year-old woman in Long Beach during a violent robbery in May.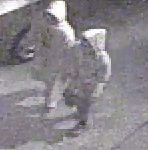 The victim was walking in the area of 9th Street and Linden Avenue when she was approached from behind by the two men at about 9:40 p.m. on May 10, a news release from the Long Beach Police Department stated.
Video of the incident shows one of the men punching the victim in the face, causing her to fall to the pavement.
The woman, whose cellphone was taken during the assault, was then dragged several feet.
The video then shows both men running from the area.
"It feels like the string of violence is on the rise," Resident Crystal Adams-King, who said she was attacked in broad daylight in April on the same street as the 62-year-old woman, told KTLA. "Watch your back. Always watch your back."
The robbers were described as men with dark complexions, between 20 and 25 years old, and standing between 5 feet 8 inches to 6 feet tall. They both weighted about 160 pounds, according to police.
The woman was treated for non-life threatening injuries following the robbery.
Long Beach police have released the surveillance video in hopes of finding witnesses to the robbery.
Anyone with information was asked to call the Police Department at 562-570-5731. Those who wish to remain anonymous can call Crime Stoppers at 1-800-222-TIPS (8477).