This is an archived article and the information in the article may be outdated. Please look at the time stamp on the story to see when it was last updated.
National Park Service biologists have documented two new female mountain lion kittens, thought to be less than a month old, in separate mountain ranges in the Los Angeles area.
The tiny, blue-eyed kittens are from separate litters on opposite ends of the Santa Monica Mountains National Recreation Area's mountain lion study area.
One kitten, dubbed P-43, was found in a remote area near Malibu Creek State Park. Her mother is P-23, who was memorably photographed about two years ago atop a dead deer on Mulholland Highway.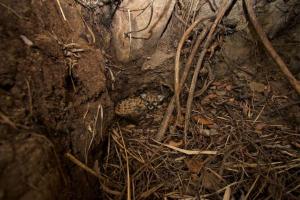 The other kitten, P-44, lives in the Santa Susana Mountains and is the daughter or P-35, who was collared by wildlife biologists in April 2014.
Mountain lion kittens usually begin opening their eyes when they're about 2 weeks old, and then start traveling with their mothers when they're between 4 and 6 weeks, according to a Facebook post from the recreation area.
Both kittens are from their respective mother's second litters, and both mark the only single-kitten litters that federal biologists have documented locally since the study began in 2002, according to a Tuesday blog post from Ranger Kate Kuykendall.
"We think that the Santa Monica Mountains can only support 10 to 15 mountain lions," Kuykendall said. "We don't know exactly how many there are."
The little big cats are among 10 litters documented by the study.
Biologists aren't yet certain which pumas are the fathers of the two babies, but they have some suspicions. The kittens were briefly captured to have blood and tissue samples taken, and those tests should show which lions mated with the kittens' mothers.
Biologist Jeff Sikich used a GPS device to track the mothers to locations where they had remained for a few weeks, and had to crawl through thick brush to find the hidden babies. The kittens were brought to a nearby work area to get samples taken to be marked.
"Even with the GPS location it's still extremely difficult to find them, because the moms do a really good job of tucking them away," Kuykendall said.
The kittens were found in well hidden dens during the day, when their mothers were out hunting.