This is an archived article and the information in the article may be outdated. Please look at the time stamp on the story to see when it was last updated.
Rangers in the Santa Monica Mountains recently captured two young adult male mountain lions who researchers will begin tracking as part of their study on the species' ability to survive among urban stressors, park officials announced Monday.
The two cats, now known as P-55 and P-56, were both caught earlier this month in the western Santa Monica Mountains, according to National Park Service spokesman Zach Behrens.
They will join about 13 other mountain lions known to survive in the ecologically isolated area between the 101 and 405 freeways.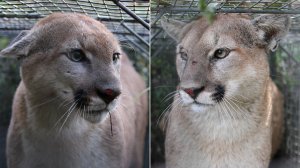 Rangers with the Santa Monica Mountains National Recreation Area believe the two are brothers but will need to analyze the lions' DNA to confirm.
Scientists tag cubs born to mountain lions in the study, so it appears the two new pumas were not previously known to researchers.
Officials did not disclose the mountain lions' exact age but noted it would prove difficult for the young males to survive past the age of 2.
"These two will face the same threats as previous younger males in the mountains: a habitat fragmented by freeways and development (along with rat poison moving up the food chain) and the dominant male lions who already have staked a claim to the area," Behrens said in a statement.
Though only roughly 15 mountains lions are known to now survive in the Santa Monica range, wildlife ecologists identified a total of 56 in the area since 2002.
The local population is at risk of extinction within the next 50 years if freeways continue to constrain the cats' movements, researchers warned last summer.
Since December, three mountain lions — a mother and her two cubs — have been killed attempting to cross the 118 Freeway.