This is an archived article and the information in the article may be outdated. Please look at the time stamp on the story to see when it was last updated.
Two of three people have been identified after being found dead in a Long Beach apartment where carbon monoxide poisoning was suspected, authorities said Wednesday.
Albert Salazar, 51, of San Pedro, and Jamie Ballantyne, 34, or Long Beach, were found in an apartment in the 1100 block of Gardenia Avenue in Long Beach on Monday, along with another man who remained unidentified.
The man and woman were identified Wednesday by the county coroner's office. A third man was still listed as a "John Doe" and has not been identified, a coroner's official said.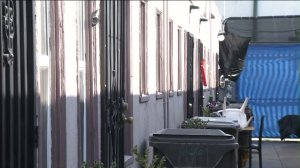 Police were called to the apartment by a report of a foul odor coming from it. They found the decomposing bodies of two men and a woman inside.
The unit was sealed and a smell still lingered in the area on Tuesday evening.
A large propane heater that can produce deadly levels of carbon monoxide was inside the unit, a news release from the Long Beach Police Department stated. The heater was not intended for indoor use, police said.
"Based on the fact of the proximity of the portable heating device … (and) the unit being enclosed without being fully ventilated, there is suspicion or indication that carbon monoxide poisoning may have been a contributing factor to their death," said Jake Heflin of the Long Beach Fire Department on Tuesday.
Carbon monoxide is an odorless, colorless gas, so it's near impossible for residents to know if it's in their homes, he said. A detector is required in multifamily buildings by state law, but it's not clear if there was a detector in the Gardenia Avenue apartment.
The coroner's office said autopsies were still pending and a cause of death was not released.