This is an archived article and the information in the article may be outdated. Please look at the time stamp on the story to see when it was last updated.
Two LAPD officers were injured in a police shooting in the Reseda area Monday morning and the suspect was killed, officials said.
The incident occurred just after 10 a.m., following a pursuit, near the intersection of Victory Boulevard and Corbin Avenue on the border of Reseda and Winnetka, according to the Los Angeles Police Department.
Two male officers were loaded into ambulances at the scene, aerial video from Sky5 showed.
One officer had cuts and scratches, while the other had a "more serious injury to his knee," LAPD spokeswoman Capt. Patricia Sandoval said.
The Los Angeles Times reported that the officer suffered what appeared to be a gunshot wound.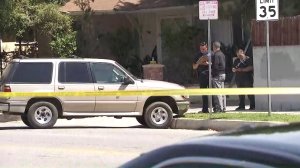 The vehicle the suspect was driving had been stolen earlier Monday and the officers located it using the LoJack system. The suspect led police on a short foot pursuit and was eventually fatally shot.
Police found a revolver at the scene, Sandoval said. It is unclear, however, if the suspect fired the gun.
One neighborhood resident, Leonor Lacarovits, said she heard 10 or 12 shots fired, but she immediately dropped to the floor and didn't see where they were coming from.
Both officers, who have been on the force for about three years, were wearing body cameras and their vehicle also had a dash cam.
Video from the shooting would not be eligible to be released under the department's new rules for making recordings of police shootings public, the Times reported. The policy was adopted March 20 and goes into effect later this month, but is not retroactive.
The suspect was only described a man in his early 20s. The Times reported that he suspect was the seventh person shot by LAPD officers this year; five of those were killed.
Streets in the area were remain through the afternoon while authorities investigated.
By my count, the man shot and killed by police today was the seventh person shot by on-duty #LAPD officers this year. Five were killed.

The last time an on-duty #LAPD officer was shot was in December, when an officer was wounded in the Westlake district.

— Kate Mather (@katemather) April 9, 2018
Watch the news conference on the LAPD Officer-Involved Shooting that occurred earlier today in Topanga Division pic.twitter.com/X6UvYktYJ8

— LAPD HQ (@LAPDHQ) April 9, 2018
Two officers were injured during the incident. Both were transported to a local hospital. We can confirm they both have non-life threatening injuries

— LAPD HQ (@LAPDHQ) April 9, 2018