This is an archived article and the information in the article may be outdated. Please look at the time stamp on the story to see when it was last updated.
Two pedestrians were seriously injured after being hit by a vehicle in West Hills Thursday morning, according to the Los Angeles Police Department.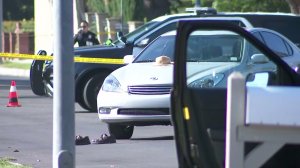 One of the victims was pinned under the vehicle after the slow-speed crash.
The crash was reported about 7:35 a.m. near the intersection of Stagg Street and Faust Avenue, LAPD Sgt. David Delgado said.
The driver, described as a woman in her 60s, tried to make a left turn while the sun was in her eyes. She heard something hit the vehicle, but she didn't see anything.
The woman then got out and a witness told her there was someone underneath her vehicle, Delgado said.
He added that it was a slow-speed crash and the impact most likely forced the victim on the ground and caused the victim to be run over.
He was taken to the hospital in critical condition. His wife, who he was walking with at the time, was also struck and is in serious condition.
Lt. Bill Bustos said the couple are in their 70s and 80s.
Video from the scene showed the man's shoes on the ground and his hat on the hood of a car.
The driver of the vehicle remained at the scene and was "distraught" and "upset," Delgado said.