This is an archived article and the information in the article may be outdated. Please look at the time stamp on the story to see when it was last updated.
An investigation was underway into a stabbing in Van Nuys that left a woman dead and a man injured Tuesday morning, according to the Los Angeles Police Department.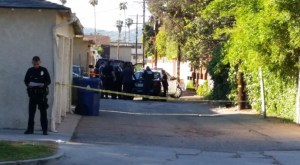 Officers initially responded to an alley near the intersection of Lemay Street and Kester Avenue (map) at around 8 a.m. after a man called 911 claiming that about four hours prior, he and his girlfriend had been sitting in a truck when they were attacked during a robbery, according to LAPD Officer Lilliana Preciado.
The female victim, identified only as a 40-year-old mother of three, was fatally stabbed while sitting in the front passenger seat of the vehicle, Preciado said.
She was pronounced dead at the scene. Her boyfriend was found next to the truck, according to an LAPD news release.
The woman's boyfriend suffered one wound and was taken to Providence Holy Cross Medical Center for treatment of the non-life-threatening injury, the LAPD spokeswoman said.
He told officers that he was knocked unconscious during a robbery and attack perpetrated by three Latino men. He said he awakened hours later to discover his girlfriend had been stabbed to death, according to Preciado.
At that point, the 40-year-old man told he authorities he called police.
He was being interviewed at the hospital, according to Preciado. The investigation was just beginning, police said.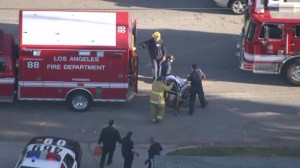 Investigators said the victim's three children — ages 16, 7 and 4 — were all safe. Responding to reports, Preciado had earlier stated that a 4-year-old child had not been injured in the attack.
The boyfriend, who is separated from his wife, has two children who were also safe, police said. He was identified by a neighbor as Osmar Gomez, a painter and handyman. Gomez rented storage space next to the neighbor, she said.
A knife believed to have been used in the stabbing was later recovered at the scene.
Police were canvassing the area late Tuesday morning as they spoke to neighbors and looked for witnesses or surveillance video to aid them in their investigation.
"This takes time. … We have to do a through investigation; we cannot discount anything and jump to conclusions," LAPD Capt. Lillian Carranza said.
KTLA's Jennifer Thang, Justin Burton and Melissa Pamer contributed to this story.
More Video: