This is an archived article and the information in the article may be outdated. Please look at the time stamp on the story to see when it was last updated.
The bodies of a 43-year-old mother and her 7-year-old daughter were discovered after firefighters knocked down a blaze that tore through a home in Fontana early Monday morning, authorities said.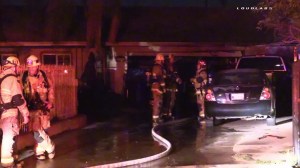 Fire crews responded to the 17700 block of Owen Street about 1:20 a.m. and found the single-story house and garage fully engulfed in flames, according to San Bernardino County Fire Department Capt. Jeremy Kern.
The second-alarm fire did not threaten or spread to other structures, he said.
It took 29 firefighters about 30 minutes to extinguish the flames.
After the blaze was knocked down, firefighters conducted an extensive search of the burned property and found the bodies in a bedroom.
The names of the victims were being withheld pending family notification, but the San Bernardino County coroner's website described them as a 43-year-old Hispanic woman and her 7-year-old daughter.
Investigators said the fire started outside the home and, fueled in part by strong winds, spread to the residence.
A neighbor said she spotted the fire and called 911, only managing to see the flames because of an early morning phone call from her son.
"I was yelling, 'Help, help, help,'" Lucy Ponce-Chaidez said. "It was so windy."
Because of the aggressive attack initiated by the on-scene crews, firefighters were able to contain the flames to the garage, patio, and parts of the home's living space.
Ponce-Chaidez's sustained some damage as well. She did not know when she would be able to return to her home.
The cause of the fire was under investigation.