This is an archived article and the information in the article may be outdated. Please look at the time stamp on the story to see when it was last updated.
The man accused of fatally shooting two other men just outside a motel in Downey on Saturday morning surrendered to authorities following a standoff lasting hours later in the day.
Raymond Joseph Penland surrendered to SWAT officers and law enforcement officials in an industrial area of Santa Fe Springs where authorities say he once worked. He was taken into custody at about 8:45 p.m., city officials said.
Authorities have also identified two persons of interest — Catarina Frances Barajas, 25, and Vanessa Teresa Cardenas, 32. One of the women is believed to be the girlfriend of Penland and is being questioned.
City officials said Barajas responded to the Downey Police Station, but it's unclear if she or the other woman is the girlfriend of Penland.
Meanwhile, the victims have yet to be identified.
At about 11:30 a.m., officers responded to reports of shots fired and found the dead bodies of two men just outside Rick's Motel, according to city officials.  The motel is located near the intersection of Woodruff Avenue and Firestone Boulevard.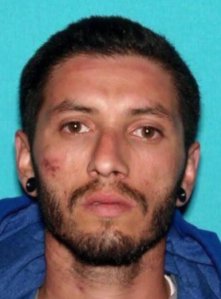 It appears there was some sort of dispute between the shooter and the victims, as the incident "does not appear to be a random act," city officials said in a news release. Penland allegedly fled the scene right after.
When Penland barricaded himself inside a building in Santa Fe Springs later in the day, authorities struggled to make contact with him since he knew the area well and was able to hide, according to a Downey police captain. He said workers in the building were safely evacuated as the standoff went on.
The cause of the shooting and other circumstances are still being investigated as authorities have yet to release further information.