This is an archived article and the information in the article may be outdated. Please look at the time stamp on the story to see when it was last updated.
One man died, and another man was injured, Saturday evening when an ultralight aircraft crashed into the Pacific Ocean near Point Mugu, the Ventura County Fire Department reported.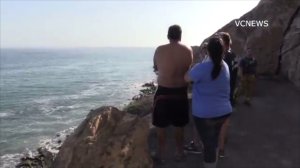 The aircraft crashed around 5:20 p.m. at Pacific Coast Highway just south of Mugu Rock at Point Mugu. Officials said the men crash landed near the shore, but in the ocean.
One of the men was able to swim to shore, but the other man was rescued by a civilian who saw the crash, Officer Steve Swindle told KTLA.
The civilian began performing CPR on the rescued man until paramedics arrived, officials said.
Both men were transported to a local hospital in unknown condition.
On Sunday the Ventura County Coroner's Office confirmed one of the men had died Saturday at the hospital.