This is an archived article and the information in the article may be outdated. Please look at the time stamp on the story to see when it was last updated.
An underground vault exploded in Beverly Grove on Friday, injuring three people, damaging some nearby businesses and causing power outages in the area.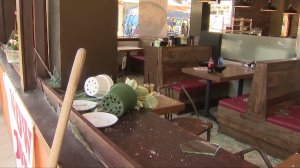 The explosion occurred at 8455 W. Beverly Blvd. after the vault failed around 1 p.m. and knocked out power within a half-square-mile radius, officials said. Crews continued working into the night in effort to repair the damage.
Four people — three males and a female — were injured when the explosion occurred, according to a Los Angeles Fire Department alert. The patients, who received minor injuries, were evaluated at the scene, and all declined to be taken to a hospital.
Earlier, the department said one person had been transported with non-life-threatening injuries, but LAFD later clarified the patient was in an ambulance stopped because of the explosion, and was unrelated to the incident.
The force of the blast caused windows to shatter in front of nearby businesses. Video from the scene also showed glass windows shattered at a nearby restaurant, with shards visible on tables and in booths.
Germaine, an employee at an AT&T store in the 8400 block of Beverly Boulevard, told KTLA that the explosion felt like an earthquake, and that the store lost power for about 10 seconds.
Power outages impacted a number of local businesses, and also affected Cedars-Sinai Medical Center afternoon, which had to use its emergency generator system, according to a Marni Usheroff, a communications specialist with the hospital.
The Emergency Department remained open to basic medical services, but some non-emergency surgeries and procedures had to be rescheduled, Usheroff said.
Los Angeles Department of Water and Power crews were on scene assessing the damaged equipment before they worked to restore power, according to a DWP news release.
It was not immediately known how many were affected by the outage, the department said, noting that 3,500 customers were still without power mid-afternoon in the Fairfax Village area because of a previously failed circuit in the same vault.
As crews worked to fix the issue, westbound lanes on West Beverly Boulevard from North Orlando Avenue to North Croft Avenue were shut down. It was not immediately known how long the lane closures would last.
No additional information was immediately available.
KTLA's Irving Last contributed to this story.