This is an archived article and the information in the article may be outdated. Please look at the time stamp on the story to see when it was last updated.
Two people were hospitalized with burns after an asphalt tanker exploded and caught fire in Santa Fe Springs Monday morning.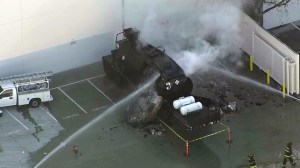 Multiple callers reported hearing the explosion in the 13500 block of Orden Drive about 6:30 a.m., Santa Fe Springs Department of Fire and Rescue Division Chief Brent Hayward said.
First responders found the burning tanker and two injured people who had been thrown off of a truck trailer during the explosion, Hayward said.
The workers, who were contracted to work on the roof of a nearby building, were heating the asphalt when something apparently malfunctioned during the heating process, Hayward said.
"They had either a vapor explosion or a product explosion," Hayward said.
Both workers were treated at the scene and then transported to a local hospital.
"The more critical of the two was then transferred to UCI," Hayward said.
The second worker was also taken to UC Irvine Medical Center's burn center a short time later, Hayward said.
Callers reporting the explosion to authorities initially described it as a propane explosion.
The cause of the explosion was under investigation, Hayward said.
KTLA's Irving Last contributed to this report.