This is an archived article and the information in the article may be outdated. Please look at the time stamp on the story to see when it was last updated.
Two people were shot Sunday after a violent attack broke out between three people near Cal State Northridge, police reported.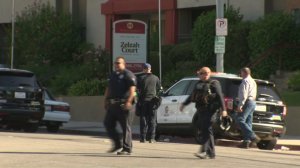 Officers responded to a call about shots fired around 8:30 a.m. in the 9800 block of Zelzah Avenue and found one victim and one suspect wounded. The attack may have been the result of a fight that broke out between three people, LAPD reported.
The victim and suspect were transported to a local hospital with unknown injuries, LAPD reported.
Police were still searching for a third person who is considered to be a suspect.
No other information was immediately available.