This is an archived article and the information in the article may be outdated. Please look at the time stamp on the story to see when it was last updated.
A mother and daughter were identified as the two victims killed in a multivehicle crash that left four others hospitalized in Pasadena early Tuesday morning.
Vanessa Escobedo, 18, and Maria Dolores Escobedo-Torres, 42, died in the collision, which occurred around 12:13 a.m. near North El Molino Avenue and East Maple Street.
The Los Angeles County coroner's office released the victims' names more than 12 hours after the fatal crash. Both women were from Burbank, a coroner's official said.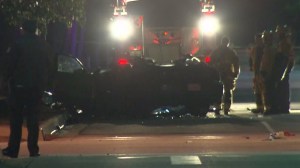 Details about what led up to the crash have not been provided. One of the cars ended up upside down, while the second vehicle had extensive front-end damage, video from the scene showed.
Pasadena Police Department Lt. Luna confirmed in the early morning hours that two people were killed, and four others hospitalized in conditions ranging from critical to minor.
One person was also treated at the scene.
Luna said one of the vehicles had five occupants, and the other car had two people inside.
The intersection where the collision occurred was shut down for several hours during the investigation.
Luna said it was not yet known whether alcohol played a role in the crash.
KTLA's Steve Bien contributed to this story.