This is an archived article and the information in the article may be outdated. Please look at the time stamp on the story to see when it was last updated.
A fiery crash in Hollywood resulted in the deaths of two people, including an employee of the Metropolitan Transportation Authority and a man police said fled the scene of a traffic stop early Monday morning.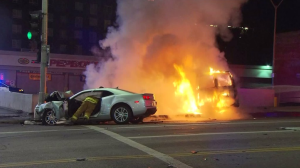 The deadly incident occurred after police conducted a traffic stop near Sunset Boulevard and Argyle Avenue around 1:45 a.m., according to Los Angeles Police Department Sgt. Marlon Marrache. The reason for the stop was not immediately known.
A female passenger stepped out of the silver Camaro, and was being investigated by police when the male driver fled the scene.
The driver then crashed into a custodial van near Hollywood Boulevard and North Gower Street.
The van burst into flames after the collision, and an MTA employee inside was pronounced dead at the scene.
The employee's mother later identified him as 50-year-old Willie Toy. She said her son began his shift at 9 p.m. the previous night, and that she had just spoken to him on the phone minutes before the fatal crash.
"What hurts the most is when I see that van, that was my baby in that van burning up," Dorothy Toy told KTLA.
Officials initially said the fleeing driver was pursued by police, but Marrache later said he crashed about a minute after leaving the area and a pursuit never occurred.
That driver, described as a man in his late 20s, was transported to a local hospital where he was pronounced dead. His name has not been released.
Investigators were searching the area for possible surveillance video, and it was not immediately known if officers were wearing body cameras during the traffic stop, Marrache said.
During the investigation, Hollywood Boulevard was closed near the crash scene. The area was reopened to traffic shortly before 1 p.m.