This is an archived article and the information in the article may be outdated. Please look at the time stamp on the story to see when it was last updated.
Two people were rescued from a boat that burst into flames off the coast of Palos Verdes Estates on Monday morning, according to officials.
Rick Jimenez, 55, said he had just purchased the 36-foot power boat for $3,400 in Wilmington and was taking it to the Channel Islands, where he planned to fix it up. He had brought a 75-year-old friend along on the trip.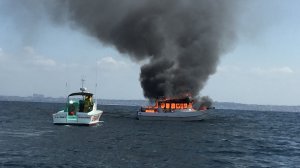 But not long into the excursion Jimenez noticed smoke coming from the boat's exhaust pipe.
"I ran and got the fire extinguisher," he said. "I used it all up, and then it was going inside and it was billowing."
Soon, the wooden boat was engulfed in flames. The men couldn't return to the cabin to retrieve their life jackets, so they went to the back of the boat, hoping someone would come to help.
"We're sitting back there, and there were some explosions, because we have propane on there," Jimenez said. "We had my oxygen on there, and then we had a flare kit."
The fire was soon noticed by an uncle and nephew who had gone out for a morning fishing trip.
"It starts growing bigger and bigger, and we noticed that nobody's helping them," Max Zietsman recalled.
His uncle, Andre Zeitsman, said Jimenez and his friend were sitting off the back of the blazing boat with their legs in the water when they arrived.
"We could feel the heat before we even got there, so I don't know how they were able to stand the heat," he told KTLA.
The Zeitsmen threw the two men life vests and invited them into their boat.
Firefighters were alerted to the incident at 9:36 a.m. and arrived one minute later, said Sal Alvarado, a supervisor with the Los Angeles County Fire Department.
Crews found the vessel "fully involved" approximately 1 to 2 miles off the coast of Malaga Cove. The fire was knocked down at 9:57 a.m., officials said.
Both men were treated at Redondo Harbor and later released.
The wooden boat, however, did not fare so well: It sank as it was being towed back to shore, firefighters said.