This is an archived article and the information in the article may be outdated. Please look at the time stamp on the story to see when it was last updated.
Two people were transported to local hospitals after being rescued from a burning structure in Santa Ana on Friday night, officials said.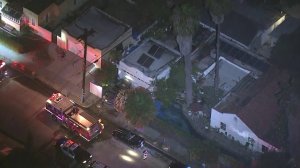 The fire was reported shortly before 10 p.m. in the 1000 block of North Olive Street, according to the Orange County Fire Authority. Aerial video from Sky5 showed fire personnel focusing on a house located in that neighborhood.
A fire captain said firefighters encountered flames and smoke coming from the home, the Orange County Register reported. The fire was knocked down, and both people were rescued, the Fire Authority tweeted.
One of the rescued individuals was listed in critical condition, while the second person had minor injuries, officials stated. Their identities were not released.
The structure was searched and no one else was found inside, according to another tweet.
The cause of the fire was under investigation, the newspaper reported.