This is an archived article and the information in the article may be outdated. Please look at the time stamp on the story to see when it was last updated.
The remaining two inmates who escaped from the Orange County Men's Central Jail more than a week ago have been taken back into custody, the Sheriff's Department announced Saturday.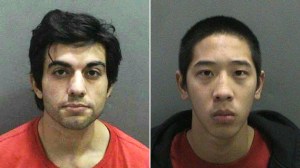 Hossein Nayeri, 37, and Jonathan Tieu, 20, were captured by personnel from the San Francisco Police Department just before 9 a.m. in the Park District, authorities said.
"The entire state can breathe a sigh of relief because we have the other two dangerous individuals back in custody," Orange County Sheriff Sandra Hutchens said at a noon news conference outside of sheriff's headquarters in Santa Ana.
Detailing how the two men were captured, Hutchens initially told reporters that a female citizen flagged down San Francisco officers regarding a suspicious person and vehicle at a Whole Foods Market parking lot. A San Francisco police official later identified the civilian as a male.
The van matched the description of a stolen white van associated with the fugitives that the civilian had seen in reports, and one of the individuals looked like of one of the two remaining escapees from widely distributed photos of the trio, Hutchens said.
Police first located Nayeri, and a short foot pursuit ensued, according to Hutchens. He was apprehended a short time later and arrested without further incident.
Officers then went back to search the van, which was located at Haight and Stanyan streets, and found Tieu hiding inside. He was also taken into custody without incident, the sheriff said.
Both men were taken to the San Francisco County Jail, where they would eventually be questioned by Orange County investigators looking to gather additional information in case. They would then be transferred back to Southern California, Hutchens said, noting that there would be coordinated efforts to determine how and when that would take place.
The arrests occurred less than 24 hours after the third escapee, 43-year-old Bac Duong, surrendered to authorities at a Santa Ana business.
The three had been on the loose for about a week after breaking out of the Men's Central Jail, a maximum-security facility located in Santa Ana, on the morning of Jan. 22.
About two hours before Duong turned himself in, authorities said they "felt strongly" that the trio were still in the Southern California area, and were believed to be driving around in a stolen 2008 white GMC Savana utility van.
Hours later, Capt. Jeff Hallock, a spokesman for the Orange County Sheriff's Department, said that investigators believed the two at-large fugitives were in Northern California.
They were apparently spotted at motel in San Jose on Thursday, along with the white van, according to Bay Area television station KRON.
At some point, Duong was with the other two fugitives in San Jose, but returned by himself to Southern California.
Before noon on Friday, he walked into Auto Electric Rebuilders, a business located in the 1400 block of North Harbor Boulevard in Santa Ana, and spoke to the store's co-owner, whom he knows. Doung stated that he wanted to turn himself in, an acquaintance told KTLA on Friday.
One of the store's co-owner, Lee Tran, told reporters that Duong was "scared for his life, pretty much."
Authorities later said that he was cooperating with investigators.
The three men broke out of the jail by cutting through steel bars with tools, making their way to the roof of the multistory facility via a plumbing tunnel, and then using a makeshift rope to climb down the building's side.
Duong then stole the white van from a private party. Authorities had been on the lookout for the van since it was reported stolen in South Los Angeles last Saturday.
Hutchens confirmed on Saturday that the van recovered in San Francisco was the same one reported stolen a week earlier. Investigators found nearly 400 rounds of ammunition inside the vehicle, but no weapon was recovered, she said.
While on the run, Nayeri, Tieu and Doung were considered by the department to be armed and dangerous. Tieu was being held at the jail on a murder charge, Doung on an attempted murder charge and Nayeri on charges including kidnapping and torture, according to the Sheriff's Department.
An investigation was still ongoing as to how the trio broke out of the jail, but authorities suspect that a contract worker may have helped them somehow in the escape.
Nooshafarin Ravaghi, an English as a second language teacher who worked at the jail, was arrested Thursday on suspicion of being an accessory to a felony, the felony being the jail escape, according to Hallock.
He said Ravaghi provided "critical planning tools," including Google Earth images of the jail, to the inmates. She has denied giving them the tools used in the escape.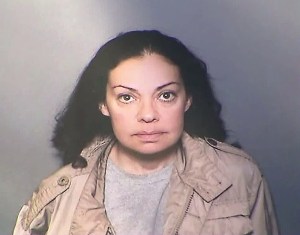 Ravaghi had developed a "close, personal relationship" with Nayeri, who was a student in one of her classes, the sheriff's lieutenant said.
She was one of several people arrested in connection with the escape. Any individuals found to have aided and abetted in the breakout would be prosecuted, according to Hutchens.
Meanwhile, the sheriff said authorities would continue to investigate how the men were able to get out. "We're looking at where the system failed us," she said.
The three escapists would be housed in a different area and manner, and would not be together, according to Hutchens.
"We do not want another escape from an Orange County jail," she said.
All along during the weeklong search, Hutchens maintained Nayeri, Tieu and Duong would eventually be caught and taken back into her department's custody. She described the moment of relief when she learned two outstanding fugitives had been apprehended on Saturday morning.
"I did a big whoop in the air," the sheriff said. "I was elated."