This is an archived article and the information in the article may be outdated. Please look at the time stamp on the story to see when it was last updated.
Authorities were searching for an assailant or assailants Saturday after two men were killed and two others were wounded after gunfire erupted in Pasadena late Friday night, police said.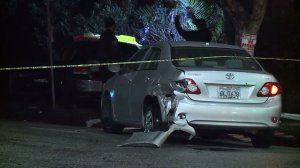 The incident also spurred a single-vehicle wreck as two men trying to flee crashed their car at the intersection of California Boulevard and St. John Avenue, according to Pasadena Police Lt. Vasken Gourdikian. The shooting was reported just before midnight in the 100 block of West Claremont Street, where officers found "an obvious scene of a shooting," he said.
The first victim, a 23-year-old black man, was discovered lifeless in the 70 block of Pepper Street, not far from the scene of the shooting, Gourdikian said.
Minutes later, a 38-year-old black woman with apparent gunshot wounds walked herself to Pasadena Fire Station 36, also near the scene of the shooting, police said. She was transported to the hospital in critical condition.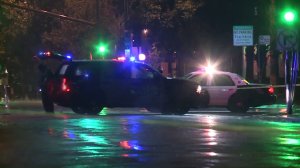 Contemporaneous to the shooting call, officers responded to the car crash, where they found two additional victims of a shooting, Gourdikian said. The driver, a 23-year-old black man, was already deceased, while a black male passenger sustained wounds that were not life-threatening and was transported to a nearby hospital, authorities said.
The victim's identities have not been released pending notification of their families.
Weapons were recovered at or near the scene of the shooting, but police still do not know who they belong to and have not yet identified any suspects, according to Gourdikian. No motive is yet known and it's unclear whether the situation was gang-related or whether the victims knew each other or the suspect, he added.