This is an archived article and the information in the article may be outdated. Please look at the time stamp on the story to see when it was last updated.
Two people were injured during a home invasion in  Sherman Oaks Wednesday morning, according to the Los Angeles Police Department.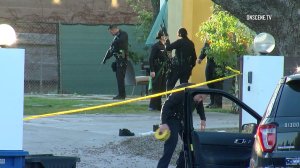 Police responded to a hospital about 6:10 a.m. for a person who was shot in the arm and was in stable condition, Officer Luis Garcia told KTLA.
Officers then responded to the 15000 block of Valley Vista Boulevard where the home invasion had occurred.
Investigators discovered that two males entered the home using a back sliding glass door and demanded money, Garcia said. Shots were fired during the robbery. One victim was shot in the arm and a second victim had a graze wound to the arm.
The robbers allegedly took purses and wallets and drove off in a black Ford Expedition and a black BMW 3 Series, Garcia said.
No arrests have been made in the case, which remains under investigation. The incident prompted a large LAPD and Los Angeles Fire Department response, and police remained at the scene Wednesday afternoon.
Neighbor Bernadette Gambino told KTLA that parties are often held at the house where the home invasion occurred.
"My guess, based on what I was told, is that maybe they saw some stuff in that house and decided to come back later," she said.
KTLA's Jennifer Thang contributed to this story.