This is an archived article and the information in the article may be outdated. Please look at the time stamp on the story to see when it was last updated.
An investigation was underway into a shooting that left two people injured at a home in a residential area of Burbank Wednesday morning, police said.
Officers responded to a call of shots fired in the 1700 block of North Catalina Street around 7:20 a.m. and located two victims, according to Burbank Police Department Sgt. Claudio Losacco.
A 67-year-old male victim was found lying in the driveway with multiple gunshot wounds, according to a Burbank police news release.
Losacco said the victim was in front of his home.
The second victim was a 33-year-old gardener who was working nearby and was shot in the foot, police said.
The gardener has bullet fragments in his foot and will need surgery, his wife told KTLA.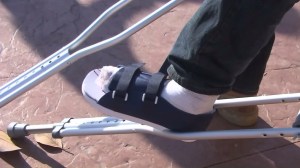 "All he was doing was working," she said. "Just randomly, they shot him. I think they did it on purpose, so he wouldn't stay as a witness."
Both victims were transported to a hospital, with the older victim in serious condition after undergoing surgery. The younger victim was in stable condition and was expected to be OK, police said.
A silver four-door sedan was last seen driving south on Catalina toward Victory Boulevard. The shooter was a man in his 20s with dark hair, according to police.
According to Losacco, shootings are "relatively rare" in the city, and investigators were working to determine a motive.
Anyone with information was asked to call Detective Jamal Childs at 818-238-3210.
A GoFundMe page has been created to help one of the victims.