This is an archived article and the information in the article may be outdated. Please look at the time stamp on the story to see when it was last updated.
For years, it was hard to miss the billboards and radio jingles for a weight-loss surgery center that promised, "Let your new life begin, call 1-800-GET-THIN."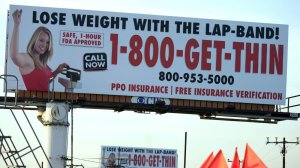 But on Wednesday, federal prosecutors charged that the Lap-Band surgery operation was at the center of a massive fraud scheme that forced patients to undergo unnecessary tests, falsified medical tests to justify surgeries and cheated insurers and patients out of $250 million.
Authorities arrested two Southern California doctors after a federal grand jury indicted the pair for allegedly creating fraudulent medical bills. The arrests of Julian Omidi, 49, of West Hollywood and Mirali Zarrabi, 55, of Beverly Hills are the culmination of more than five years of federal investigation into the Lap-Band enterprise, which included in 2014 the seizure of about $110 million in assets.
They also come after a Times investigation found that five patients died after surgery at clinics affiliated with the ad campaign between 2009 and 2011, according to lawsuits, autopsy reports and other public records.
Read the full story on LATimes.com.