This is an archived article and the information in the article may be outdated. Please look at the time stamp on the story to see when it was last updated.
Investigators were searching for a man and woman Saturday who allegedly fled the scene of a fatal three-vehicle crash that killed a father of two from San Bernardino who was the passenger in a taxi at the time of the incident, officials and family members said.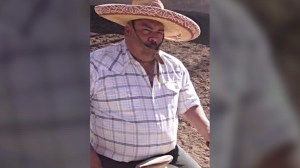 Police responded to reports of a major-injury traffic collision near avenues East Highland and Del Rosa North (map) around 10:15 p.m. Friday, according to a San Bernardino Police Department news release.
The initial investigation found a Ford Crown Victoria taxi was stopped westbound at a lit intersection when it was rear-ended by a speeding 2002-model Chevrolet Suburban.
The impact caused both vehicles to move into the intersection where one of them collided with a Honda Civic that had entered the intersection southbound and was in the process of making a left onto Highland's eastbound lanes.
Photographs of the scene showed three badly mangled vehicles, with the taxi appearing as if it no longer had a back end.
Police said a 41-year-old San Bernardino resident who was a passenger in the taxi died at the scene, the taxi driver was transported to a hospital for moderate injuries and the driver of the Honda suffered minor injuries.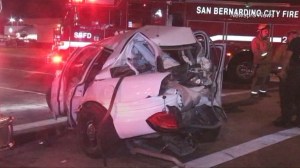 Family of the deceased man identified him as Cesar Figueroa, a husband and father of two girls.
"He was very, very happy," Figueroa's sister-in-law Maria Vallez said. "When he was around you, he was the only one who took over the conversation. … He had this way of making you laugh."
Figueroa was a "very nice person" who loved singing and horses, Vallez added.
The male driver and female passenger in the suburban fled on foot, according to police. No further details were immediately available.