This is an archived article and the information in the article may be outdated. Please look at the time stamp on the story to see when it was last updated.
Two people remained at large after fleeing the scene of a crash that killed two brothers in a residential street in Highland Park early Sunday. The victims—identified by family members as brothers Benny and Jesse Felix Zuniga, 25 and 19—were traveling west on Pollard Street in a white Ford Fusion around 1 a.m. when a pickup truck heading north on San Pascual Avenue slammed into them, pushing their vehicle onto three or four parked cars, according to Los Angeles police.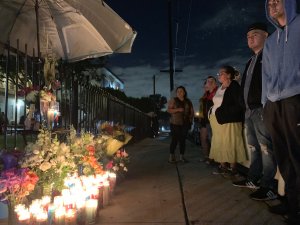 One witness reported seeing the pickup truck traveling between 70 to 90 mph, Detective Jose De Leon said. The victims were just coming home from Paramount and were about to pull up into their apartment when the incident happened, said two women who identified themselves as the victims' girlfriends. LAPD released home surveillance video that captured the impact. The footage also shows the driver exiting the pickup truck soon after the crash. Investigators don't believe the drivers of the two vehicles were racing, De Leon said. Witnesses described the pair who fled as two Hispanic men in their 20s. It's unclear whether the truck, which they abandoned at the scene, is registered to either of them, De Leon said. The bodies of the victims were removed from the site late Sunday morning. "Please help us find the people who did this," Marisol Salazar, one of the victims' girlfriend, said in tears. Authorities provided no further details about the incident. Loved ones gathered for a vigil for the victims Sunday night. A fund for the victims' family has been set up at
gofundme.com/felix-zuniga
.
It's with a heavy heart that we report that one of our former Panther track athletes passed away in a horrible hit and run car crash last night here in Highland Park. Jesse Felix Zuniga will be missed by his family, friends and the Panther community. #RestInPower pic.twitter.com/5KiFHkC5tD

— FHS Panthers Track (@FHSPantherTrack) May 5, 2019