This is an archived article and the information in the article may be outdated. Please look at the time stamp on the story to see when it was last updated.
A vegetation fire in San Bernardino was 100 percent contained Saturday afternoon after burning five homes and nearly 9 acres, officials said.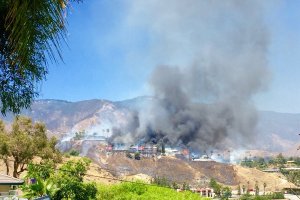 The so-called Kendall Fire started about 1:15 p.m. in the area of Skylark and Edgerton drives, prompting a response by about 120 firefighters from multiple agencies, according to the San Bernardino County Fire Department.
News video showed several hilltop residences engulfed in flames near the Castaway restaurant, generating plumes of black smoke that were visible for miles.
The San Bernardino Police Department ordered mandatory evacuations on Edgerton, west of Pershing Avenue, and on Skylark, said Jeff Allen, a Fire Department spokesman. An evacuation center was established at 3900 Severance Avenue.
Three firefighters sustained minor injuries and a civilian suffered smoke inhalation, county fire officials said.
"Unfortunately, due to the steep slope and rapid rate of spread, four homes were destroyed and one damaged," the Fire Department said in a statement, adding that the blaze's forward progress was halted after it scorched 8.7 acres.
The cause of the incident was not immediately known.
#KendallFire:(Update)Fire at 8.7 acres 50% contained Approx 120 Firefighters assigned Forward rate of spread stopped pic.twitter.com/eGP3PDTZXn

— SB County Fire (@SBCOUNTYFIRE) July 2, 2016
#kendallfire photos from photographer @EricReedPhoto pic.twitter.com/9f0QNbltBk

— Rick Sforza (@RickSforza) July 2, 2016
#KendallFire: (Update) Evacuation Center at 3900 North Severance . Photo Credit Nathan Cooke pic.twitter.com/BaYBkak9ux

— SB County Fire (@SBCOUNTYFIRE) July 2, 2016
https://twitter.com/BlodgettJohnM/status/749351699794554884