This is an archived article and the information in the article may be outdated. Please look at the time stamp on the story to see when it was last updated.
A 12-year-old girl has been booked on a charge of negligent discharge of a firearm after a shooting in a classroom at Sal Castro Middle School in the Westlake district on Thursday morning left five people injured, including two students who sustained gunshot wounds, authorities said.
The shooting was described as "not intentional" by Los Angeles Police Department Spokesman Josh Rubenstein. LAPD officials said it appears the girl did not plan to shoot when she brought the gun into school.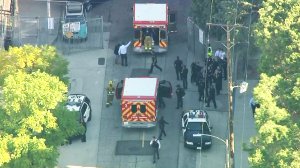 Two students — a 15-year-old girl and a 15-year-old boy — were found with gunshot wounds and transported to local hospitals, according to authorities. The boy, who was shot in the head, was transported in critical condition, said Capt. Erik Scott of the Los Angeles Fire Department. The female victim had a gunshot wound to the wrist and was in fair condition.
Three other patients — ages 11, 12 and a 30-year-old female staffer — were taken to hospitals for treatment.
Emergency personnel from several agencies responded to the middle school, located in the 1500 block of West Second Street, after receiving reports of a possible shooting inside a classroom shortly before 9 a.m., according to Los Angeles School Police Department Chief Steven Zipperman.
The shooting took place in a mixed-grade class at the middle school, which is located on the campus of Belmont High School, not far from downtown Los Angeles.
In addition to the two teens who were shot, two of the injured had "graze wounds," according to an official at Los Angeles County USC Medical Center, where four of the victims are being treated. All four patients at the facility are expected to make a full recovery, including one who is in the Intensive Care Unit.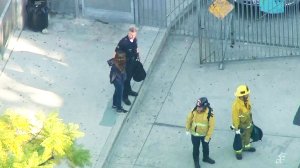 LAPD, which is the lead agency in the investigation, identified the suspect as a 12-year-old girl. School police Sgt. Edward Bernal told KTLA earlier in the day, and after she was taken into custody, that she is a student.
Sky5 aerial video showed two officers escorting an apparently handcuffed female off the campus and to an awaiting LAPD patrol car, where she was placed in the back seat. It was still unclear whether she was the suspect in the incident.
Later in the day, LAPD officials confirmed the suspect was booked on a charge of negligent discharge of a firearm but still had not released information about the circumstances leading up to the shooting.
The campus was placed on lockdown for several hours as police searched the middle school, but LAPD indicated they did not believe there were any additional suspects outstanding.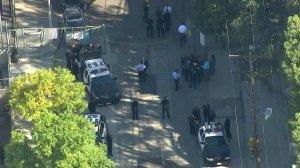 In the immediate aftermath of the shooting, officers could be seen bringing several students out of a classroom with their hands behind their backs, aerial footage showed. They were being patted down by police before being released, apparently as a precautionary measure.
"The school has been declared safe at this point. There is no more safety threat," Zipperman said.
It was not immediately known how the shooter was able to get the gun on campus, Bernal said, noting that the school conducts random weapon checks.
Authorities were also investigating how the individual was able to access the gun.
"We do not know yet … how our young person on this campus ended up having the ability to have access to a firearm and bring it onto a campus," Zipperman said.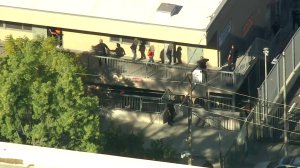 Investigators were unsure how many students and staff were in the classroom at the time of the incident.
"There were numerous kids that ran and other kids that may have left the classroom," Zipperman said.
One woman whose 13-year-old sister was inside the class when the shooting took place told KTLA the sibling — who is in the 7th grade — communicated with her through a series of text messages and recounted a chaotic scene.
Jocelyn Lopez said her sister texted that she was OK, but had "just heard something pop inside the classroom." Then, everybody started to panic, the sister told Lopez.
She texted that she was sitting next to two girls who were injured.
"It was really close to her," Lopez said.
Classes resumed as normal once the lockdown was lifted, and counselors were on campus to assist the students impacted by what the school police chief described as a "traumatic" incident.
In the hours following the shooting, California's Superintendent of Public Instruction Tom Torlakson issued a statement offering his condolences and thanking law enforcement and school officials for "acting rapidly and quickly locking down the campus to make sure this tragedy was not even worse."
"My thoughts and prayers go out to the students, teachers, staff, and the entire community at Sal Castro Middle School and the Los Angeles Unified School District," he wrote. "I'm saddened that this kind of terrible event is becoming far too common."
While normal dismissal time is at 3:05 p.m., Zipperman said parents who wanted to pick up their children from the school early could do so by going to the softball field at Loma Drive and Crown Hill Avenue beginning at 1:30 p.m.
Meanwhile, a staging area is being set up in the area of Belmont Avenue and Beverly Boulevard for parents, guardians and members of the community to ask district officials any questions. A hotline has also been set up for those that cannot get to the location in person, and can be reached by dialing 213-241-1000.
LAUSD Interim Superintendent Vivian Ekchian released a statement on the shooting:
Our thoughts and prayers are with those who were hurt in today's shooting incident at Sal Castro Middle School and with all the students, families and employees on the campus.

The Los Angeles Police Department, Los Angeles Fire Department, Los Angeles School Police and District leadership immediately responded, and we followed protocols to ensure the safety and well-being of the Castro Middle School community. The school has been declared safe, and we are communicating with parents of students at Castro Middle School, as well as neighboring campuses. We are also providing appropriate supports to those who may be impacted by the incident.

We have set up an information center at Beverly Boulevard and Belmont Avenue, where parents, guardians and community members can receive updates, information about school dismissal procedures, as well as counseling services.

We are fully cooperating with the Los Angeles Police Department in its investigation of this matter.
KTLA's Jennifer Thang, Anthony Kurzweil and Sarah Fenton contributed to this story.