This is an archived article and the information in the article may be outdated. Please look at the time stamp on the story to see when it was last updated.
Two men and a 17-year-old girl were taken into custody Sunday in connection with the deaths of three people found slain in a Fullerton home, police said.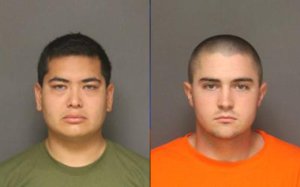 Police also identified the victims as Christopher Yost, 34; Jennifer Goodwill Yost, 39; and Arthur William Boucher, 28. The three were discovered dead in their home on the 400 block of South Gilbert Street after police received a call from a child saying her parents had "died" around 8:21 a.m. Saturday.
At 8:45 a.m. Sunday, officers arrested two men in connection with the three homicides, according to Fullerton Police Sgt. Jon Radus: 21-year-old Josh Acosta of Fort Irwin and 25-year-old Frank Felix of Sun Valley. The men will be held on murder charges and were in the process of being booked into Fullerton City Jail, he said.
On Sunday investigators also located unharmed the teen who was missing Saturday, Katlynn Goodwill Yost, 17. A 17-year-old girl was also detained, Radus said, but state law prevents officers from disclosing the identity of juveniles placed into police custody.
The teen is also expected to face murder charges. All suspects knew the family, officers said.
Jennifer Goodwill Yost was Katlynn's mother and she looked upon Christopher Yost as a stepfather, according to Radus. Boucher was a family friend who stayed at the residence from time to time, he said.
Radus said the suspects also know Katlynn, but their relationship is under investigation.
Two other children, ages 6 and 9, were also found in the home unharmed Saturday morning. They have been provided counseling services and are with relatives, according to Radus.
"We hope the quick arrest of these individuals will bring comfort to the community and assist the friends and families of those affected by this unthinkable crime," Radus said.
The motive was still unclear at this stage in the investigation, police said, and officers have not yet disclosed how the victims died.
The investigation is currently ongoing. Anyone with information is asked to call Detective Coffman at 714-738-5361 or Sgt. Rowe at 714-738-6776.