This is an archived article and the information in the article may be outdated. Please look at the time stamp on the story to see when it was last updated.
The parents of two Highland middle school students expressed outrage after the teens were allegedly strip-searched by campus officials who suspected them of possessing narcotics.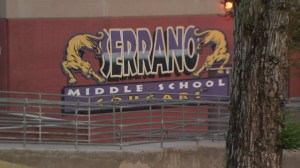 Chris Pringle and Anita Wilson-Pringle said their 13-year-old daughter and a 15-year-old girl were summoned April 7 to the office of a female vice-principal at Serrano Middle School regarding a drug allegation.
The vice principal and a man, possibly a security guard, were in the room when the 13-year-old was asked to "take off her jacket, take off her shirt, take off her T-shirt, unfasten her bra and pull her bra out — literally pull her bra out from the bottom and shake her breasts," Wilson-Pringle told KTLA.
"My child should never have been subjected to that," she said, adding that her daughter's bag had been left unattended before the accusation was made.
The 15-year-old girl claimed she was patted down by a male, according to her mother, Wendy Alvarado.
"She trusted the school to take care of her [daughter]," said Judy Carrisales, translating for Alvarado, who does not speak English.
"And that it was not right for them to do what they did," Carrisales, referring to the school officials. "It's devastating for her. She's very emotional about it."
The two girls were arrested on suspicion of marijuana possession, according to their parents, who dispute the allegation.
"Nobody deserves to be treated like this. What they did to these kids was so demeaning," Wilson-Pringle said.
Efforts to contact San Bernardino City Unified School District officials for comment were unsuccessful.
In an email sent last week to the San Bernardino Sun, spokeswoman Linda Bardere quoted the school district's policy.
"Factors to be considered by school officials when determining the scope of the search shall include the danger to the health or safety of students or staff, such as the possession of weapons, drugs, or other dangerous instruments, and whether the item(s) to be searched by school officials are reasonably related to the contraband to be found," Bardere wrote. "In addition, school officials shall consider the intrusiveness of the search in light of the student's age, gender, and the nature of the alleged violation."