This is an archived article and the information in the article may be outdated. Please look at the time stamp on the story to see when it was last updated.
Two teenagers were charged Thursday in connection with a hit-and-run crash in Torrance that left one person dead and another person injured, according to the Los Angeles County District Attorney's Office.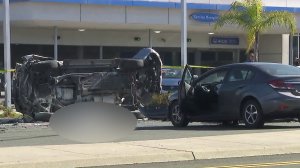 Nineteen-year-old Monte Lawhawn Collins, of Long Beach, faces a felony count of vehicular manslaughter and two felony counts of hit-and-run driving resulting injury in connection with Tuesday's fatal collision, the DA's office said in a news release.
In addition, he faces several misdemeanor charges, including multiple counts of hit-and-run driving resulting in property damage and another count of driving without a valid license, the release stated.
Los Angeles resident Karin Taylor Dixson, also 19, has been charged with a felony count of accessory after the fact to a vehicular manslaughter, according to prosecutors.
The multivehicle collision occurred about 10:30 a.m. Tuesday at the busy intersection of Hawthorne and Del Amo boulevards.
Collins was allegedly behind the wheel of the speeding SUV with three passengers when it sideswiped a car on Hawthorne, crossed the median and crashed into other vehicles, prosecutors said.
The impact caused the SUV to roll over and eject 20-year-old George Jackson from the front passenger seat, the release stated.  Jackson died at the scene.
Dixson was also in the vehicle at the time of the collision, prosecutors said.
Collins allegedly fled the vehicle after the crash, according to the release. Torrance Police Department officials said said Tuesday that a second occupant also left the scene.
The fourth passenger was trapped in the vehicle and was aided by bystanders before paramedics arrived and transported the seriously injured victim to a local hospital, police said.
Investigators said they had detained two people nearby following the collision, but did not immediately identify them.
If convicted on the charges, Collins faces a possible maximum sentence of 15 years in state prison, while Dixson could face a three-year sentence.
Bail has been recommended at $200,00 for Collins and $25,000 for Dixson.