This is an archived article and the information in the article may be outdated. Please look at the time stamp on the story to see when it was last updated.
A teen couple killed in a violent crash was remembered at a vigil in Hacienda Heights on Monday night, just hours after authorities identified the driver of the other vehicle involved in the collision.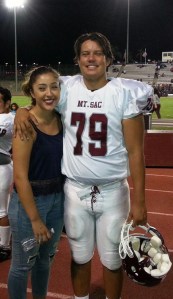 Sabrina Castillo and George Steward, both 18, died when a black sedan collided with their white 2015 Toyota Tacoma pickup truck about 6:55 p.m. Sunday near the 60 Freeway by the South Seventh Avenue off-ramp.
Key J. Kim, 68, was driving a 2013 Lexus ES 350 at an "extremely high rate of speed" on the eastbound freeway and onto the off-ramp when he failed to stop at the stop sign at the end of the ramp, according to a California Highway Patrol collision report.
The Lexus was unable to negotiate an intended right turn, collided with a raised concrete median on South Seventh Avenue and then became airborne, hitting the Tacoma and shearing the top of the truck off, the report stated.
Kim's vehicle then hit a grass median in a Denny's parking lot and rotated, end over end, coming to rest roof down in the parking lot.
Kim and his female passenger, Young A. Kim, 62, had major injuries and were taken to Los Angeles County-USC Medical Center, according to the CHP.
Steward and Castillo died at the scene.
All four of those involved were identified as Hacienda Heights residents.
Castillo and Steward were apparently on their way to meet friends at Knott's Scary Farm when the collision occurred, according to family members. They were boyfriend and girlfriend, Castillo's cousin said.
"You say it can't happen to you, but it does, so love your kids, hug your kids, pray for your kids everyday," Steward's cousin Pierre Herbe said.
At a vigil Monday night, heartbroken friends and family members gathered at the crash site to express their shock and grief at the sudden loss of the well-loved couple.
"When we got the news, I just couldn't believe what I was hearing," said an emotional Marlon Uballe, who described Castillo as a "happy person." "Every time we came over it was hugs and kisses," Uballe said.
"She was genuinely beautiful inside and out," friend Lauren Flores said of Castillo.
Friends also remembered Steward as the kind of person who made those around him smile.
"He always made our group laugh," said friend Anthony Contreras. "If we had a bad day, all we had to do was look at his face and our day would be great."
Steven Castillo, Sabrina Castillo's father, said he first learned of the accident on Twitter.
"I got down there and it was such a devastating scene that I couldn't comprehend … it looked like a war zone," Steven Castillo said.
Salvador Corrales, a witness, told KTLA he initially tried to help the occupants inside the truck but found them lifeless.
"It's just something that you don't see every day," Corrales said. "It was disturbing."
He quickly went to the overturned car, which came to a rest in a nearby Denny's parking lot, and two people trapped inside. Corrales said he helped emergency responders to remove the pair from the car.
"From what I've seen and what I've heard it's going to be a little … traumatic," Corrales said, his voice shaking. "I might stay off the freeway for a little while or so because I've never even been in this situation in my life."
California Highway Patrol Officer Jeremy Tolen described the crash site as spanning approximately 150 feet, which he said was "pretty small" given the speed involved.
"Very high-speed impact, great collision … we're lucky no one else was killed," Tolen said.
Earlier reports indicated a woman was driving the sedan and the passenger was male, and they both had only minor injuries.
Alcohol and drugs were not suspected to have been a factor in the collision, which remained under investigation.
Friends said the pair who were killed had recently graduated from Los Altos High School in Hacienda Heights and were attending college.
"When you have somebody like George and Sabrina and you see that type of passion and love they had for each other … it's rare now days," Steven Castillo said. "It was two peas in a pod."
More Video: