This is an archived article and the information in the article may be outdated. Please look at the time stamp on the story to see when it was last updated.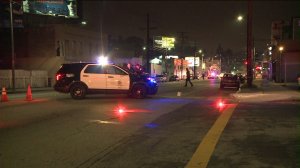 Police arrested an individual in connection to a hit-and-run in Echo Park Saturday morning that left two teen skateboarders injured, one critically.
The teens, ages 13 and 15, were crossing Alvarado Street at Montrose Street, just south of Sunset Boulevard, at about 10 p.m. Friday when they were struck, according to a news release from the Los Angeles Police Department.
One of the boys may have grabbed the other to pull him out of the vehicle's way before they were both hit by the vehicle, which did not stop after the collision, police said.
The older teen, identified as Christian Donis, suffered severe injuries and was transported to an area hospital in critical condition, the release stated. His cousin, Adam Donis, sustained minor injuries and was also hospitalized.
Prior to the arrest, witnesses described the vehicle — which was last seen fleeing northbound on Alvarado Street — as possibly being a white 2012-2014 Toyota Venza compact SUV, according to LAPD. A description of the driver has not been provided.
The SUV will likely have front-end damage to its right side, LAPD Sgt. Jesse Garcia said.
The arrest was made sometime before 8 p.m. Police did not provide additional information.
Anyone with information about the incident was urged to call LAPD's Central Traffic Division detectives at 213-833-3750 or the station's watch commander at 213-833-3744.
Those who would like to leave information anonymously have been asked to call Crime Stoppers at 800-222-8477.
KTLA's Ashley Soley-Cerro contributed to this article.