This is an archived article and the information in the article may be outdated. Please look at the time stamp on the story to see when it was last updated.
Flames erupted from two vehicles after a crash on a freeway exit in Carson Friday morning, Sky5 aerial video showed.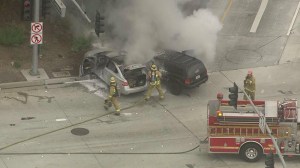 The cars crashed on the 405 freeway at Avalon Boulevard around 7 a.m.
Firefighters arrived in about five minutes and flames were extinguished shortly after, video showed.
There were no injuries, arrests or citations, Los Angeles Sheriff's Department Sgt. Joe Ramos said.