This is an archived article and the information in the article may be outdated. Please look at the time stamp on the story to see when it was last updated.
On Sunday, Montecito's neighborhoods were mostly deserted. I walked along muddy streets, awed by the devastation.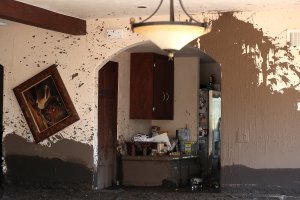 Squishy muck covered lawns and driveways. Backyards were boulder fields. Front doors were flung off their jambs, revealing mud-filled living rooms, storm-tossed couches and other personal effects strewn inside and out. Some homes were buckled by the deadly combination of fast-moving mud, boulders and tree trunks. Cars were parked at awkward angles.
The smell of wet earth, musty and thick, hung in the air, a tangible reminder of tragedy in the same way that the smell of smoke was a signature of the Thomas fire, which paved the way for Montecito's disaster, and may be responsible for floods yet to come in other vulnerable burn areas, like Carpinteria and Ojai.
It was dead quiet, except for the cawing of crows poking around piles of fast-food wrappers left by work crews.
Read the full story on LATimes.com.