This is an archived article and the information in the article may be outdated. Please look at the time stamp on the story to see when it was last updated.
Two women have been arrested in connection with the fatal beating a 65-year-old man at a light-rail station in the South Los Angeles area, authorities announced Wednesday.
Tracy Gomez, 24, of Hawthorne, was being held on $1,061,142 bail after being taken into custody on Sunday, the Los Angeles County Sheriff's Department said in a news release. It was unclear where she was arrested.
Virginia Butler, 23, was taken into custody on Wednesday at her home in Los Angeles, according to the news release. She was being held on $1,000,000 bail.
Both suspects were booked on suspicion of murder in the death of John Wayne Whitmore, who was standing on a platform at the Willowbrook Metro station on June 13 when the incident began, authorities said.
As Whitmore was waiting for a Blue Line train, he was approached by two women who engaged him in a verbal argument that preceded the attack, the Sheriff's Department said.
The assailants "immediately" began beating the man, then blended into a crowd of disembarking passengers and disappeared, said Lt. Dave Coleman.
The victim sustained blunt-force trauma to his head and died at St. Francis  Hospital a week later.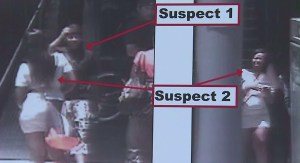 Surveillance video and photos of the two suspects were released on July 22.
"I beg anyone that saw it … don't be afraid, come forward. Because it can happen to anybody," the victim's sister, Gwendolyn Whitmore-Aldridge, said at the time.
Whitmore was survived by his sister, two brothers and 13 nieces and nephews.
"He was a talented artist who was merely running his errands," the Sheriff's Department said in a statement last month.
The county Board of Supervisors had approved a $10,000 reward for information leading to the arrest and conviction of those responsible for the man's death. Following the arrests of the two suspects, it was unclear if anyone was potentially eligible to collect the reward money.
Gomez and Butler were scheduled to be arraigned in Compton Superior Court on Thursday and Friday, respectively.
An investigation is ongoing. Anyone with information was asked to call the sheriff's Homicide Bureau at 323-890-5500.
Anonymous tipsters may call "Crime Stoppers" at 800-222-8477, or text the letters TIPLA plus the tip to 274637, or use the website lacrimestoppers.org.