This is an archived article and the information in the article may be outdated. Please look at the time stamp on the story to see when it was last updated.
A shooting outside a hookah lounge in Buena Park early Sunday morning left two people wounded and was followed by a police chase, authorities said.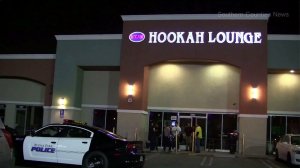 The driver of the pursued vehicle was taken into custody and four other occupants were detained, according to a statement from the Buena Park Police Department.
Officers were on patrol about 2:30 a.m. when they heard gunshots in the area of 8558 Beach Boulevard, the news release said. The M'kani Hookah Lounge is located at the address.
When police arrived at the scene, they saw an SUV driving away at a high rate of speed southbound in the northbound lanes of Stanton Avenue and then Beach Boulevard, the statement said. Believing the vehicle had possibly been involved in the shooting, the officers pursued the SUV into Anaheim.
During the chase, the vehicle sustained damage that forced it to a stop in the area of Lincoln and Brookhurst avenues, according to police.
The driver then exited the SUV and led officers on a brief foot pursuit before being apprehended. Four passengers were removed from the vehicle and questioned about the shooting, the news release said.
A handgun was recovered, the Police Department said.
The two male patients were transported to hospitals and treated for gunshot wounds that were not life-threatening, according to the news release.