This is an archived article and the information in the article may be outdated. Please look at the time stamp on the story to see when it was last updated.
Two people were shot after a party in Bloomington early Sunday, according to the San Bernardino County Sheriff's Department.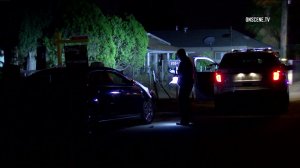 The incident was reported about 12:45 a.m. in the 1000 block of Portola Avenue. The victims had attended a party in the area of Lynwood Street. They were walking on Larch Avenue toward Valley Boulevard when they heard two gunshots, officials said. One victim felt a "sharp pain" in his leg and he fell to the ground, while the other victim was shot in the chest.
Both victims were taken to a hospital for their injuries, but their conditions have not been released.
Authorities said earlier Sunday that the victims weren't being cooperative with investigators.
No arrests have been made in the case and the investigation is ongoing.
Anyone with information can call 909-387-8313.
KTLA's Sarah Fenton contributed to this story.